ABOUT YOUR
FengFA warrants that FengFA Cabinetry will be free from any detects in workmanship for a period of 1 year; cabinet doors, finishes and surface hardware (knobs and handles) for 2 years; and cabinets for 5 years. In addition, FengFA offers a "Limited Life-time Warranty" on drawer glides and hinges, certain conditions may apply. Countertop material warranty, if installed by FengFA, is also extended to homeowner through the manufacturer for one year. FengFA's warranty is expressly limited to replacing or repairing defective parts at FengFA's discretion and covers parts only (not labour). All dates are from date of possession.
This warranty is applicable only to cabinetry installed by FengFA or one of its representatives and in climate controlled residential applications only (relative humidity 35-55% and temperatures range to 17-24°C). This warranty shall become void if the cabinets are damaged by misuse, abuse, negligence, alterations, acts of God, improper installation or handling and storage of our cabinetry by others. The warranty is for parts only and will not extend to labour or features and conditions found inherent in the wood species style or finish attributes.
This warranty is only valid if cabinetry is installed by FengFA or an authorized FengFA dealer and only to the original purchaser of the cabinets at the original site of installation and is not transferable. FengFA reserves the right to alter product design, specifications and materials without prior notification or obligation to incorporate such changes to products previously manufactured. Best efforts will be made to repair or replace discontinued components with that of an equal or better value.
This limited warranty does not cover natural aging, darkening of wood, or features inherent in wood species, style and finish attributes. If components are replaced, FengFA cannot guarantee that the finish of these replacements will exactly match the finish and appearance of the original components due to the changes outlined above. This warranty is offered only to the original purchaser of the cabinets at the original site of installation and is not transferable. This warranty is in lieu of any and all other warranties, expressed or implied by others and is only valid in Canada.
It is the responsibility of the general contractor or customer to ensure that all products ordered from FengFA comply with local codes relating to other subcontractors whose work affects FengFA products (i.e. framing, plumbing, electrical, gas). The warranty will not include any changes or alternations necessary to conform to such codes. FengFA is not responsible for any plumbing, electrical, flooring, painting, decoration or other construction work unless specifically stated in the design specifications and construction details that are part of this agreement. FengFa will not be held liable for reasonable damage to paint, wall covering, floor covering and ceiling material associated with the installation of custom millwork.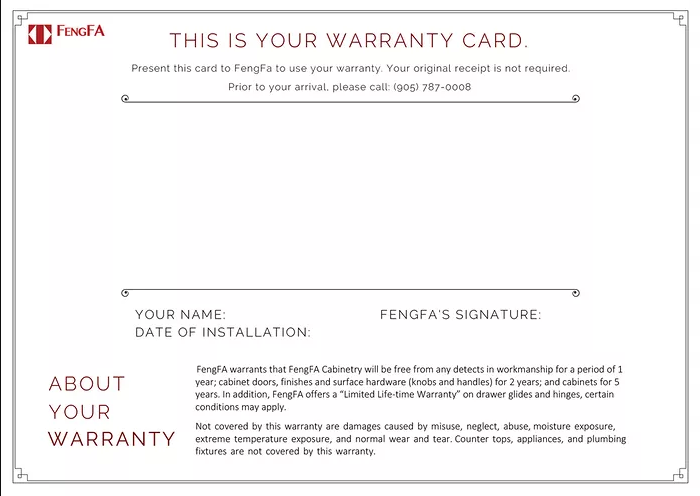 Showroom Hours
Monday  9:30 ~ 7.00 pm
Tuesday  9:30 ~ 7.00 pm
Wednesday  9:30 ~ 7.00 pm
Thursday  9:30 ~ 7.00 pm
Friday  9:30 ~ 7.00 pm
Saturday  10:30 ~ 7.00 pm
Sunday  Closed